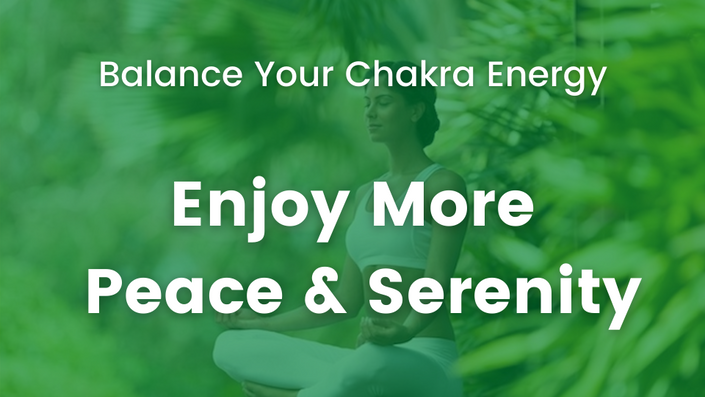 Balance Your Chakra Energy for Peace and Serenity
One New Lesson and Guided Meditation Daily
Enjoy Better Health Emotionally, Mentally, Physically and Spiritually
by Balancing Your Chakras
Do you want more balance in your life?

Do you want to feel confident making decisions?
Are you super busy, and you know you should meditate, but just can't seem to find the time?
Then this course can help you.
Balancing the Chakras is an easy way to slip into a daily meditation that will not only allow you to relax and feel better, but will also lead you through a guided journey to balance your body's Chakra energy.
Benefits of Chakra Balancing:
Release anger, guilt, fear, sadness, loneliness
Enhance feelings of being safe and secure
Experience more pleasure and sensual fulfillment
Increase ability to make decisions and take action
Be open to inspired creative expression
Be able to trust and feel connected
Reduce desire for unhealthy habits
Feel connected to higher consciousness or spirit
Get in touch with inner guidance and intuition
The word 'Chakra' is derived from a Sanskrit word meaning wheel, or a better translation might be spinning wheel. If you could see Chakras, those energy centers located along your spine, you would be able to see each Chakra as a spinning vortex of energy.
When your Chakras are out of balance, your life is out of balance. This may show up as:
anger
paranoia
depression
loneliness
anxiety
guilt
fear
overeating
or other instances of disharmony and dis-ease
Balancing the Chakras gets rid of negative energy that causes dis-ease in the body and in the mind. This enjoyable, balancing meditation is like having a tune up for the body.
In the same way you need to take in your car for a tune up, to keep it running smooth and clean, by balancing the Chakras on a regular basis, you maintain your body clean and pure, for optimal health and vitality.
This course is designed to fit into your busy life. In fact, the busier your life becomes, the more you need to stay on track with a regular mind-body tune up.
In this Chakra Course you will:
Get an Overview of Each Main Chakra
Learn About the Color, Vibration and Location of each Chakra
Understand the Characteristics of each Chakra
Discover How Chakra Balancing Affects Your Health and Well Being
Listen to a Daily Guided Meditation to Balance each Chakra
Enjoy a Complete Seven Chakra Balancing Meditation
Complete a Journal Assignment for each Chakra to Enhance the Experience
In only minutes per day, you will be able to get in touch with your Chakra energy, and keep your Chakras balanced, vibrating in perfect harmony. Simply sit back, and listen to the guided meditations as you slip into a more relaxed state of peace and serenity.
After you complete the course, you may return to these guided recordings again and again, to fine tune your Chakra Energy Centers. You may choose to make this a daily practice, a weekly practice, or repeat the course anytime you feel 'out of balance'.
The key is to keep the internal motors running smoothly, in alignment, so that your external world reflects the inner peace and harmony coming from inside.
How Does It Work?
Starting today, you will receive one lesson each day to balance one of the Chakras, starting with the Root, moving to the Crown. On the final day you will receive a review lesson and Guided Meditation to cover all 7 Chakras.
Each lesson is yours to keep and you'll be able to refer back to it whenever you want. And if you miss a lesson or are too busy to get to it that day, each lesson will conveniently remain in your account so you won't have to search for it when you're ready to get back to it.
Your Instructor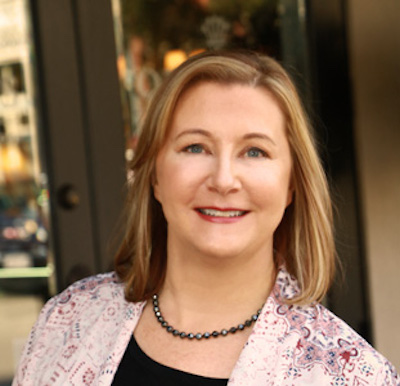 Becky Hays, Certified Master NLP Life Coach & Hypnotherapist, offers programs and services to help you live a better life.
Since 2007 Becky has held private coaching sessions with guided hypnosis & NLP therapy in her downtown Austin office and with remote clients from Hawaii to NYC and beyond. Remote sessions available by phone or video. www.open2transformation.com
Member of National Guild of Hypnotists
Member of National Society of NLP
Presenting Faculty Member at International Convention of NGH
In 2010 Becky co-produced the groundbreaking documentary Beyond Belief. This film explores the Power of the Subconscious Mind, and how subconscious "limiting beliefs" can keep people stuck, while tools such s hypnosis and NLP can help people make amazing changes in their life.
One decade later, in 2020, the film is still in distribution available on amazon, and through a global distributor, and has been used by NLP Training Centers around the world.
Course Curriculum
Welcome - Intro to the Chakras
Available in days
days after you enroll
The First Chakra - Root Chakra
Available in days
days after you enroll
The Second Chakra - Sacral Chakra
Available in days
days after you enroll